Updated by JQ Lee
To connect Viber, a Viber Bot is required. Read our
guide
to create a Viber Bot.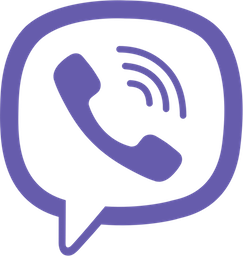 Viber is a cross-platform instant messaging and voice-over IP application operated by Japanese multinational company Rakuten. As of December 2018, it has over a billion users, with its popularity stemming mainly from Europe and Asia. This Viber Bot integration lets you respond to messages directly from our platform.
Connecting Viber
Step 1: Navigate to Channel Settings
From Settings module, navigate to the menu item, Channels.
Step 2: Add Channel
Click Add Channel and choose Viber. The Connecting Viber dialog should open up.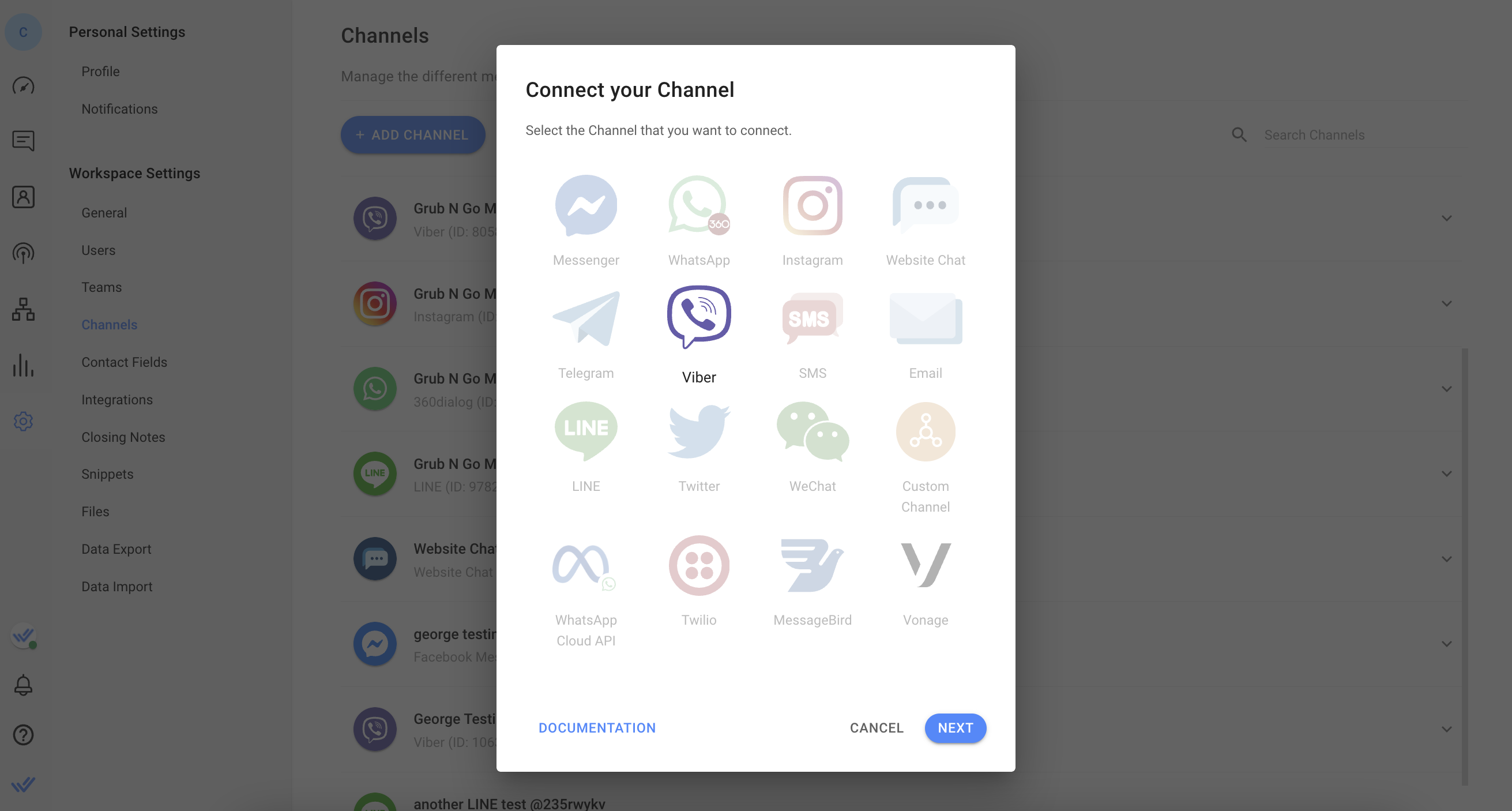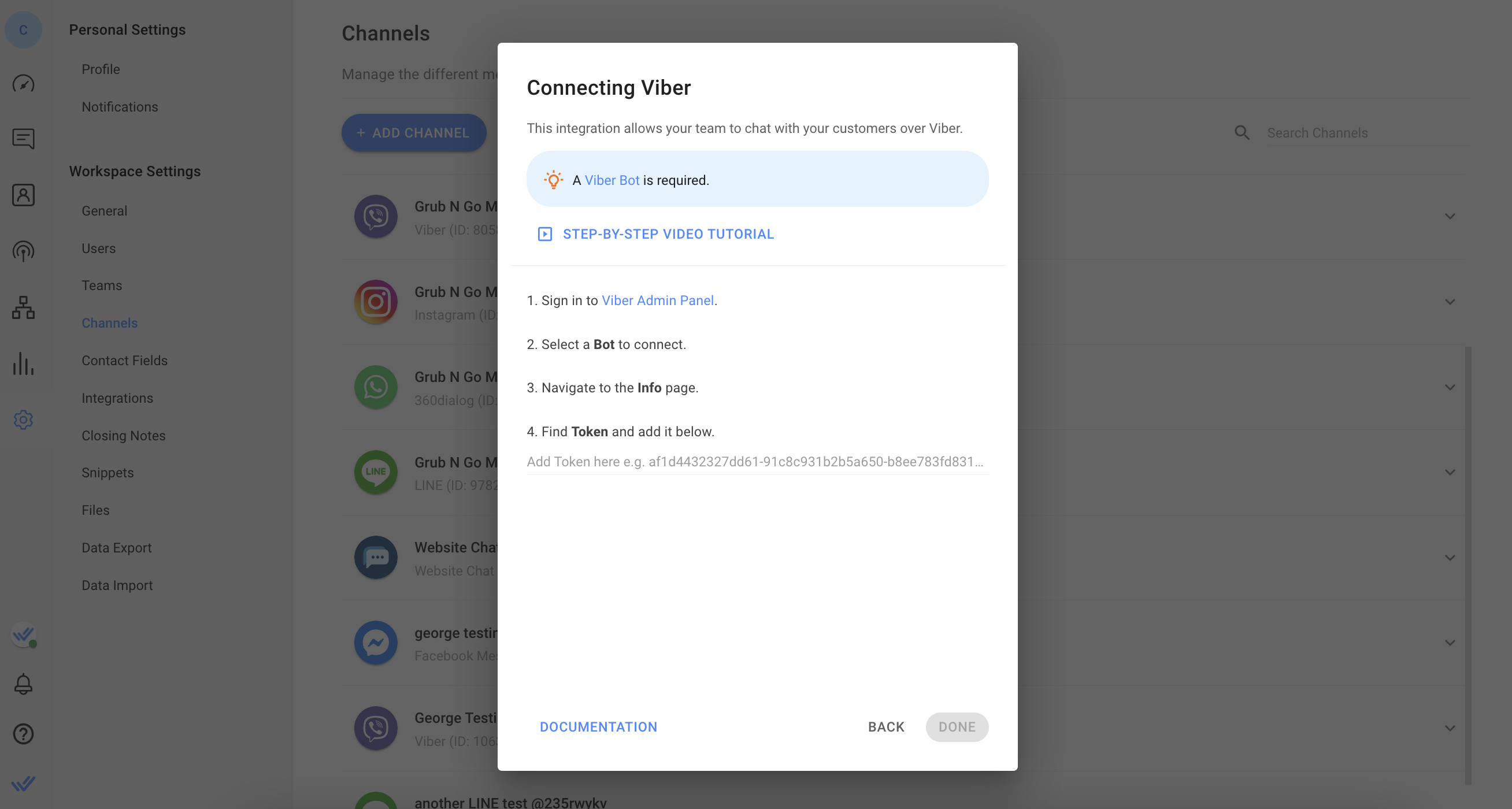 Step 3: Sign in to Viber Admin Panel
Using your sign-in credential, sign in to Viber Admin Panel.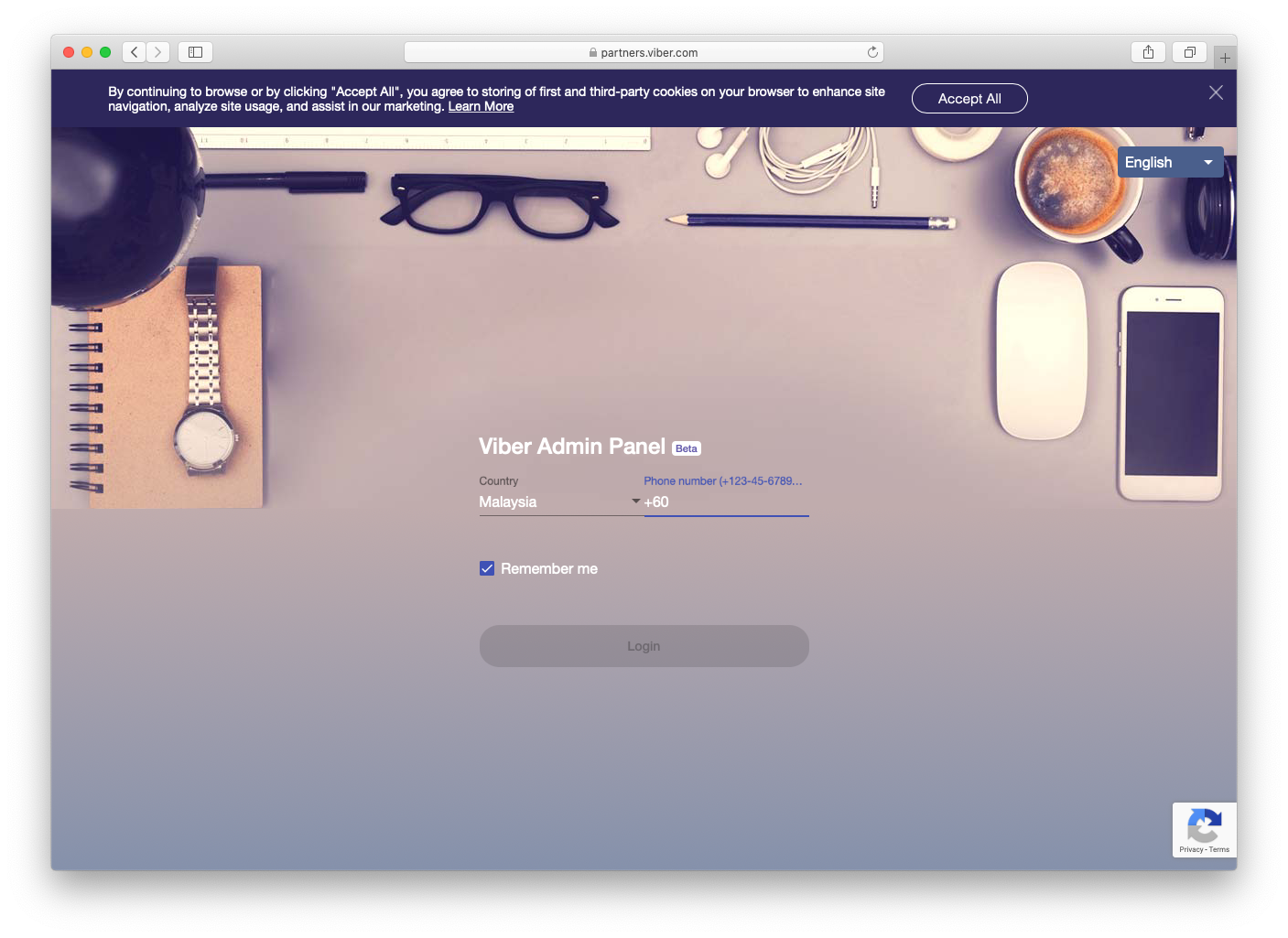 Step 4: Select a Bot to connect
After you have signed in, select a Bot you wish to connect to respond.io. If you don't have a Bot, create a Bot account.
Step 5: Locate the Token
On the Bot Info page, locate the Token and add it to the corresponding field on the respond.io platform.
Step 6: Complete the setup at respond.io
Click Done to complete the setup.
Once you've completed the setup, any messages sent to your Viber Business Account will now be received in your Space.
Channel Configuration
Viber channel can be configured with a unique:
- Channel name
Step 1: Navigate to Channel Settings
From Settings module, navigate to the menu item, Channels.
Step 2: Locate the Viber channel
Once you've located the Viber channel, click Configure.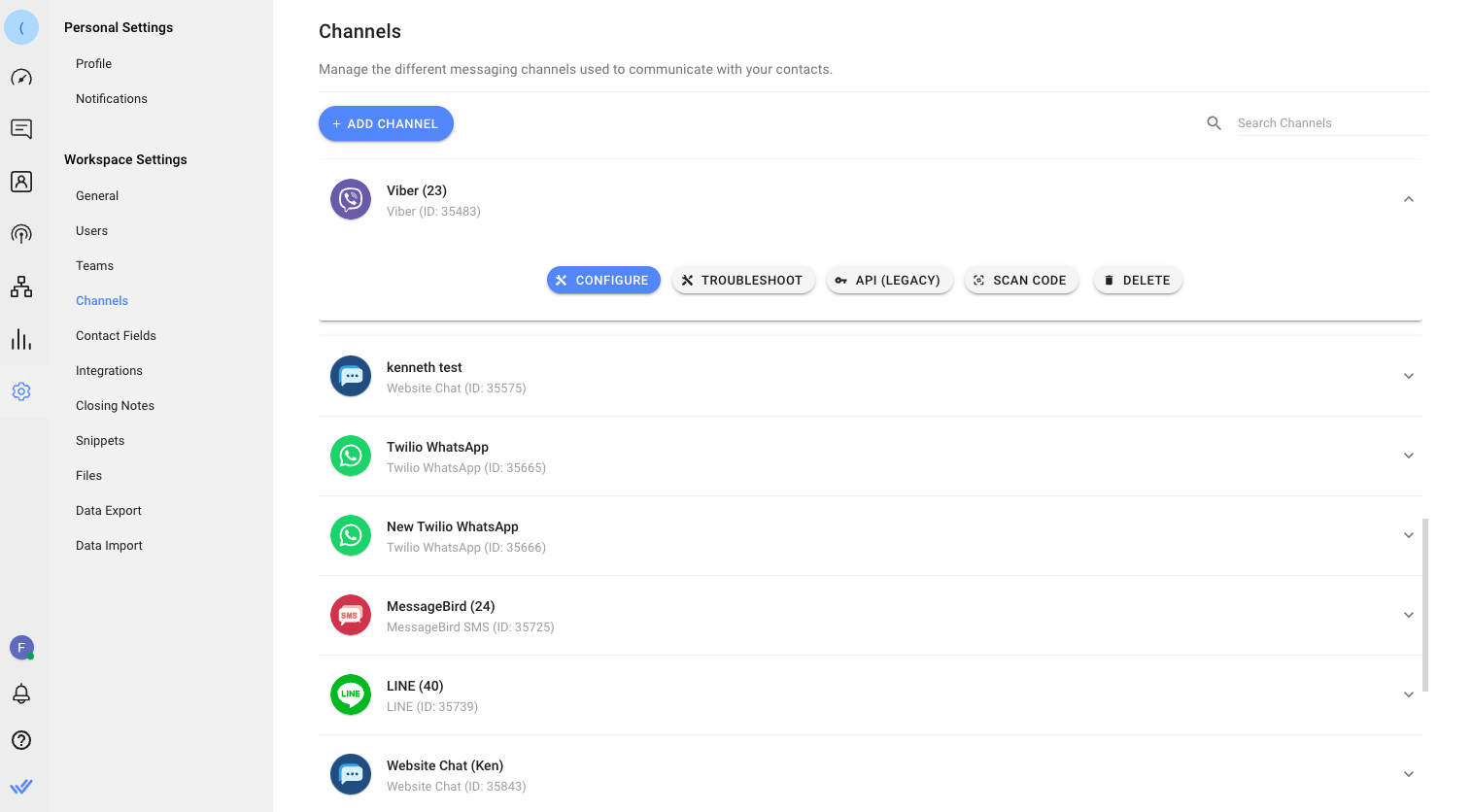 Step 3: Make the necessary configuration
You can configure the following:
Channel Name - Name used internally to identify the account.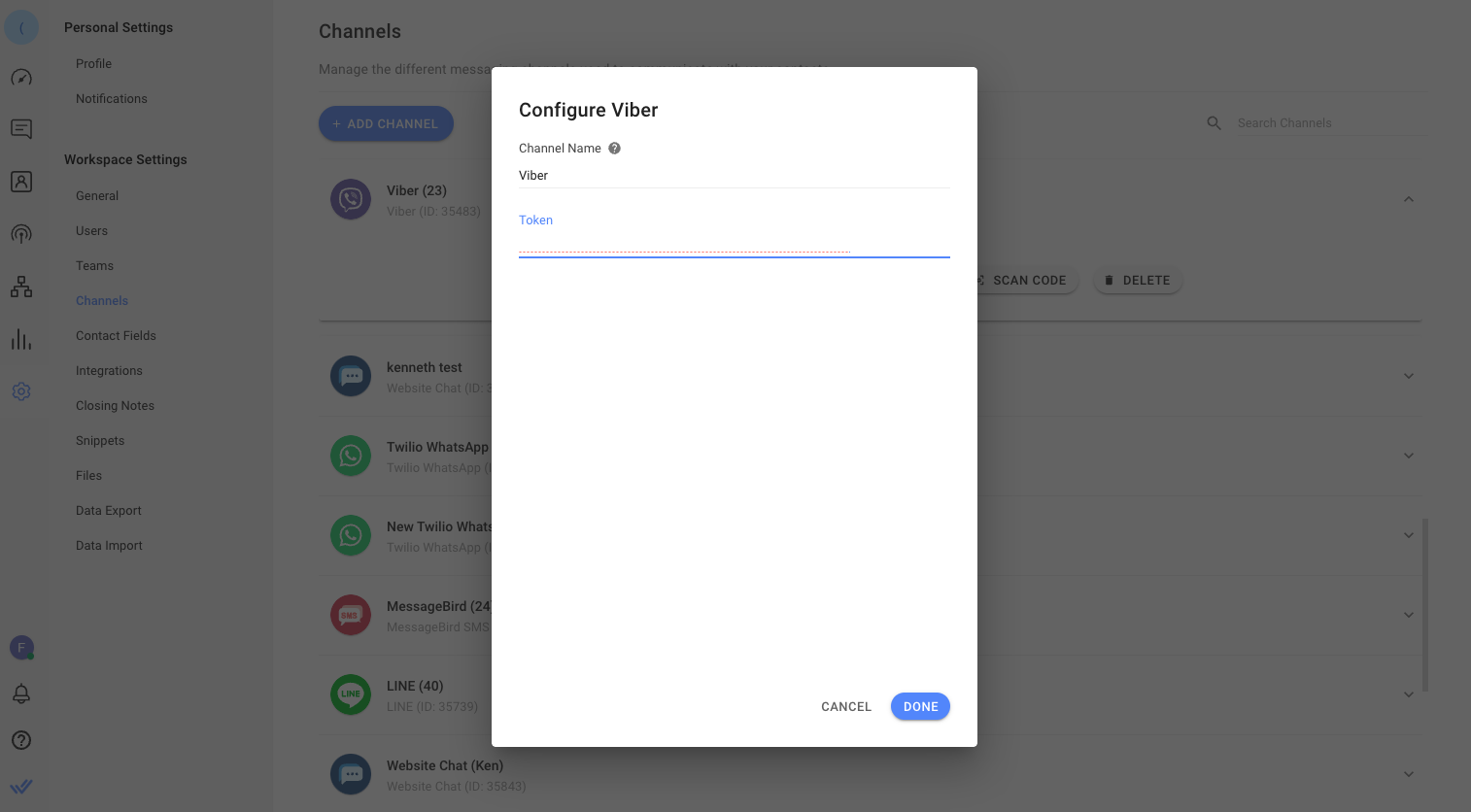 Important: Take extra caution when updating other details as it might cause failure to receive messages from your Viber account.
Step 4: Update the configuration
Click Done to update the channel configuration.
FAQ and Troubleshooting
Can I connect to a personal Viber account?
To connect a Viber channel a Viber bot Account is required. You can create a Viber bot here.
How do I share my Viber link?
By default, a Viber bot will not have an active landing page under viber.com after creation, likewise, after creating your bot it will not appear in search results in Viber.
You can set up a link to open a private chat with your bot. However, this is only if the user has Viber installed on their device. Here's how you can generate a Viber link.
Alternative/workaround to the 'Get Started' button
Use respond.io's Pre-Filled Text feature to populate the message box with a default message when Contacts open a chat window with your business.
This saves Contacts' time from needing to think about what to write and just click send, encouraging Contacts to send the first message.
Here's how to add pre-filled text to your Viber link and QR codes.
On the respond.io platform, click Settings > Growth Widgets > + Add Widget.
Select QR Code option and click Create Widget.
Create the QR Code.

Select "Viber" as the QR code type.
Select the connected Viber channel that you want to create the QR code for.
Add pre-filled text that will automatically appear in the message field when the QR code is scanned.

Click Generate Widget button to create your QR code with the pre-filled text.
Click Download and select the size of the QR code you want to save or follow the instructions here to get your Viber chat link.
When Contacts scan your QR code or click on your Viber link, they should automatically have the pre-filled text in the message box.
Why do I get this "Failed to send the message as the contact is not subscribed anymore" error message?

If you received this error message, this means the Contact has already unsubscribed from your business Viber bot.
Unsubscribing is a way for a Contact to stop receiving messages from a business. Spamming is one of the main reasons why a Contact unsubscribes whereby the Contact feels the business is constantly sending promotional messages or other unsolicited messages.
Once the Contact unsubscribes, business can't send any messages, which include broadcast messages, 1-to-1 messages or any other messages initiated by the business to the Contact anymore unless the Contact reaches out to business again.