Workspace Setting: Respond AI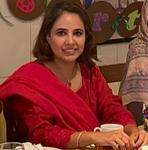 Updated by Sana
The Respond AI feature enhances the effectiveness of your communication by improving your sentences or even responding to incoming messages with the help of AI. Respond AI consists of the following three main components:
This is done with the help of prompts that redefine sentences to convey your meaning better. You can use Respond AI to change the tone of your sentence, translate text, fix typos and grammar and create your own custom prompts.
Learn more about using these prompts in the Messages Module,
here
.
Getting Here
You can access the settings of Respond AI settings by selecting Settings in the navigation menu > selecting Respond AI under Workspace Settings. The page has the following three tab:
AI Prompts: This tab is displayed by default and you can select which AI prompts you need from here.
Learn how to use AI prompts in the Messages module
here
.
AI Assist: Select this tab to add knowledge sources, determine if snippets will be used by the AI Assist to respond to queries and define the AI Assist persona.
Learn how to use AI Assist in the Messages module
here
.
AI Agent (Coming Soon): Select this tab to provide settings for the conversational bot.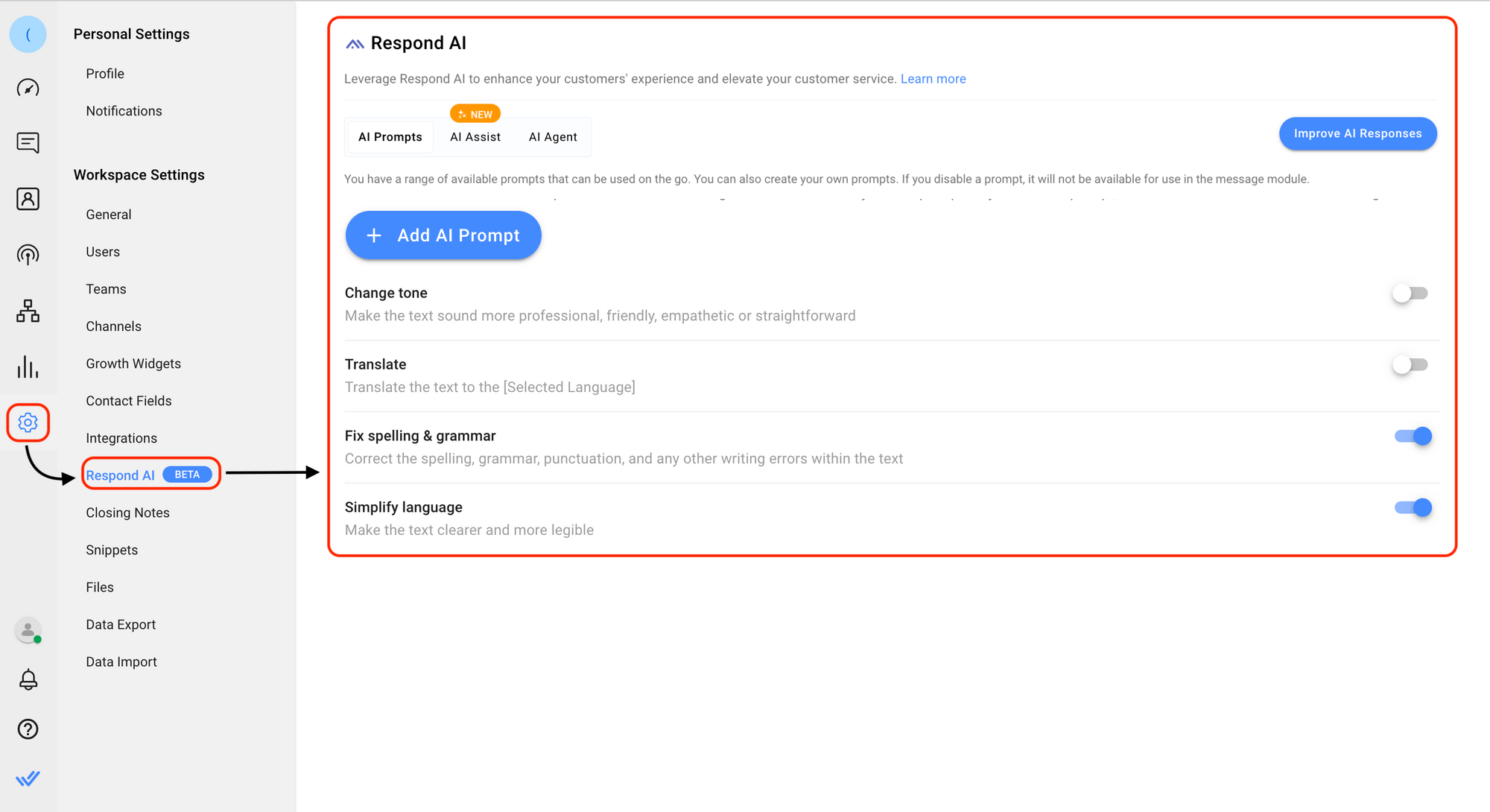 Prompt Settings
By default, Respond AI provides you with 4 default prompts and the capability to create 4 more custom prompts. You can swipe the toggle right/left to enable/disable prompts on the Quick Prompts page. The selected prompts are available in the Messaging Console of the Messages Module.
At least one prompt must be enabled at all times.
Default Prompts
The following 4 inbuilt prompts are enabled by default and can be used immediately:
Change Tone
Translate
Fix Spelling & Grammar
Simplify Language
Learn more about each prompt
here
.
Custom Prompts
You can create up to 4 custom prompts that exclusively behave how you want them to.
Creating a Custom Prompt
To create a new custom prompt, click the Add Custom Prompts button.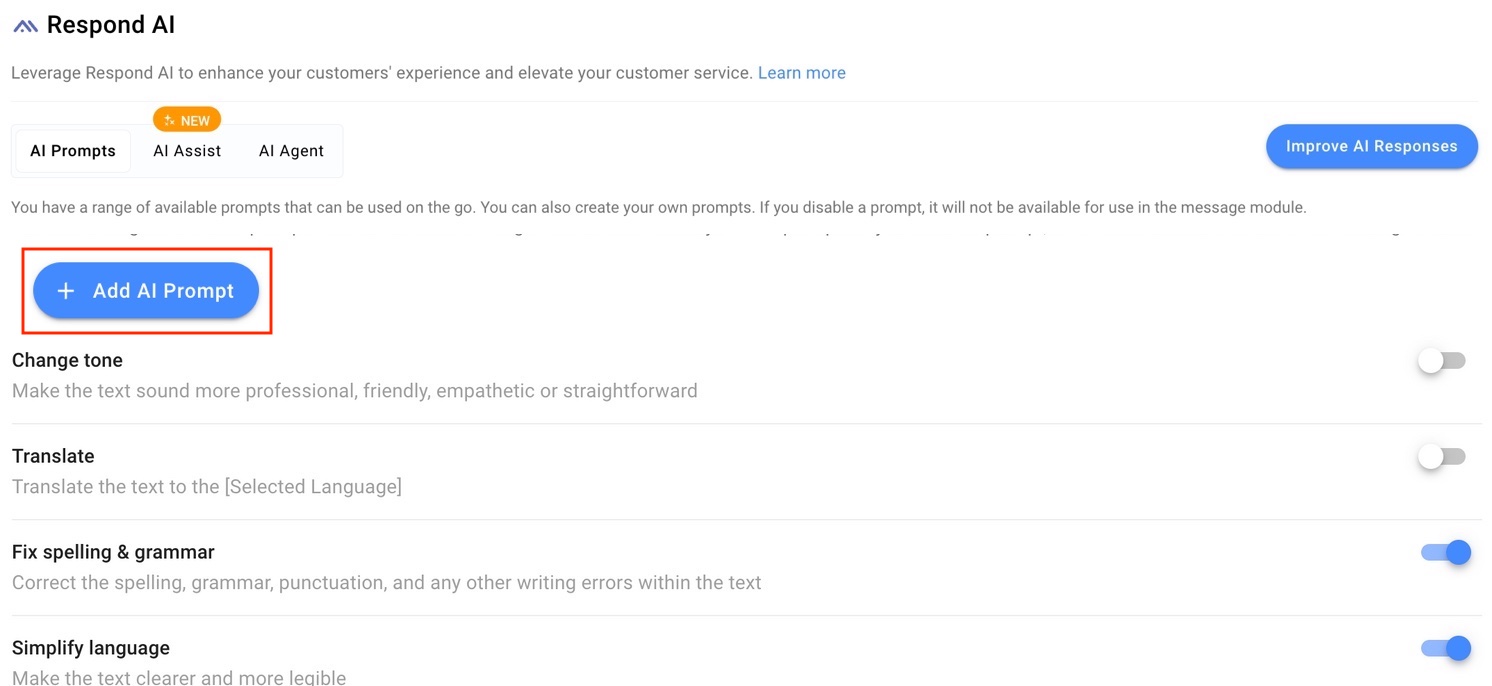 On the New Prompt dialog, provide the following information:
| | |
| --- | --- |
| Option | Description |
| Prompt Name | Enter the name of your custom prompt. For example, Make Concise. |
| Prompt Action | Enter the action you want your prompt to perform. For example, Make the sentence shorter and more concise. |
| Save | Click this button to save the prompt settings. |
| Cancel | Click this button to discard your changes. |
If 4 custom prompts exist, you must delete at least one to create a new one. However, prompts available by default cannot be deleted.
Editing a Custom Prompt
Once the custom prompt has been created, you can edit it by clicking the Edit button next to it. Once you have edited the prompt, click Save.
Deleting a Custom Prompt
If you do not need a custom prompt anymore, you can delete it by clicking the Delete button, and confirming the deletion in the dialog that appears.
Only delete a prompt to remove it permanently. If you temporarily do not want a prompt, just swipe its toggle to the right on the Quick Prompts tab.
Enabling/Disabling Prompts
To enable a prompt, swipe the toggle of the prompt right so that it is available in the Messaging Console.
To disable a prompt, swipe the toggle of the prompt left so that it is not available in the Messages Console.
AI Assist - Knowledge Sources
AI Assist lets you leverage the power of Respond AI to conduct engaging conversations with customers. You can start off by providing educational material to help AI Assist learn about your business requirements. Once done, it can formulate responses to customer queries based on the information it has.
On the AI Assist tab, you can improve AI responses by adding knowledge sources, testing AI Assist and providing other settings.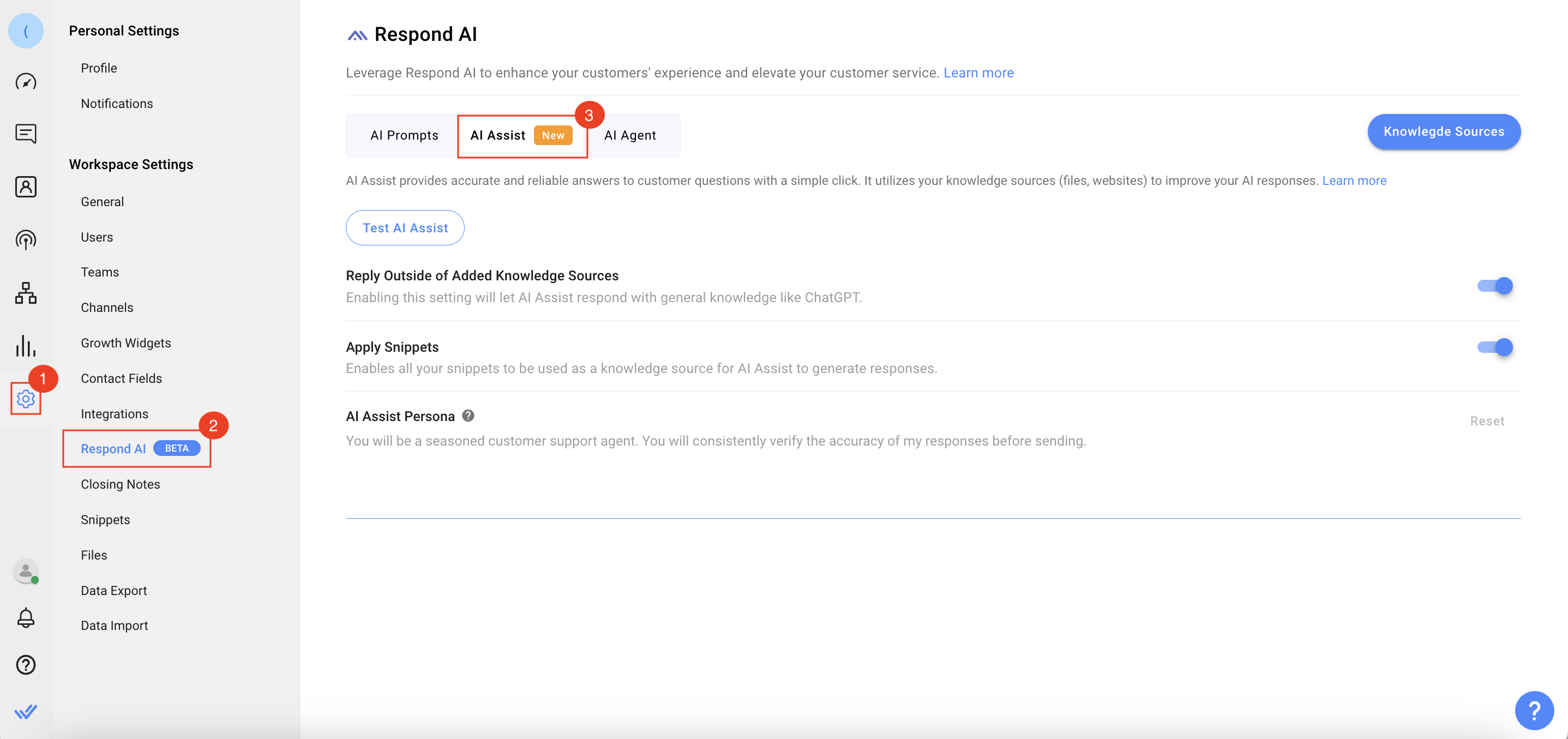 Improving Knowledge Sources
You can improve AI responses by identifying various knowledge sources, PDF files and website URLs that can help AI Assist understand your business better. With sufficient material, AI Assist can provide apt responses to customer queries. Before you start using the AI Assist tool, you should test it to verify that the knowledge sources are in fact sufficient. If not, you can provide more information by adding more sources.
Click the Knowledge Sources button to manage knowledge sources.
Step 1: Providing Knowledge Sources
You can add knowledge sources to AI Assist by selecting the following options:
Files: On the Files dialog, drag and drop relevant PDF files and click Upload. You can upload 5 files at a time and up to 50 files in one workspace.
URL: On the Website URLs dialog, enter the relevant link. When one webpage (with up to three depth links) has been crawled, you can provide another URL for crawling. It is recommended that you give AI Assist enough time to crawl one website completely before sharing another.
Data placed in tables is not a good knowledge source, and it is recommended that you pre-process it in a non-tabular format before providing it as a knowledge source.
Once a knowledge source has been added a notification is sent to you to inform you about it.
The capacity of your knowledge sources (PDFs and URLs) in a workspace is up to 1 million characters.
When you are done sharing your knowledge sources, click Done. Refer to the Status column to see what the status of the knowledge sources is. The possible statuses are:
Completed: All the knowledge sources have been added.
AI Assist will be able to generate responses based on this knowledge source 2 minutes after it has been added to the knowledge source.
In Progress: The knowledge sources are still being added.
Error: Errors tell you if there is an issue in processing the knowledge source. You can eliminate the issue and retry.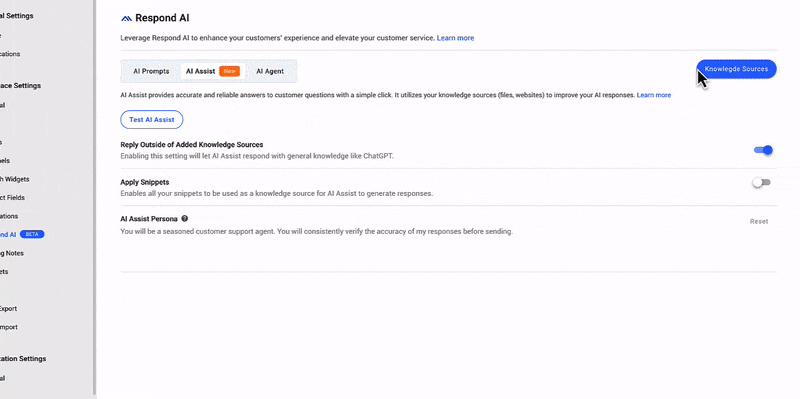 Step 2: Managing Knowledge Sources
You can view, edit and delete the knowledge sources you provided on the Knowledge Source tab.
Editing the Name
From the ACTION menu, select Edit to edit the name of the knowledge source.
Deleting Sources
From the ACTION menu, select the Delete button/icon to delete the knowledge source. AI Assist cannot access this knowledge source anymore and therefore, it cannot base responses on it.
Each workspace has a character limit of 1 million characters. If a workspace has exceeded the number of characters (either while adding a knowledge source or in an attempt after the limit was met), an error displays.
Step 3: Testing AI Assist Responses
Return to the AI Assist tab and click the Test AI Assist button to open the Test AI Assist dialog.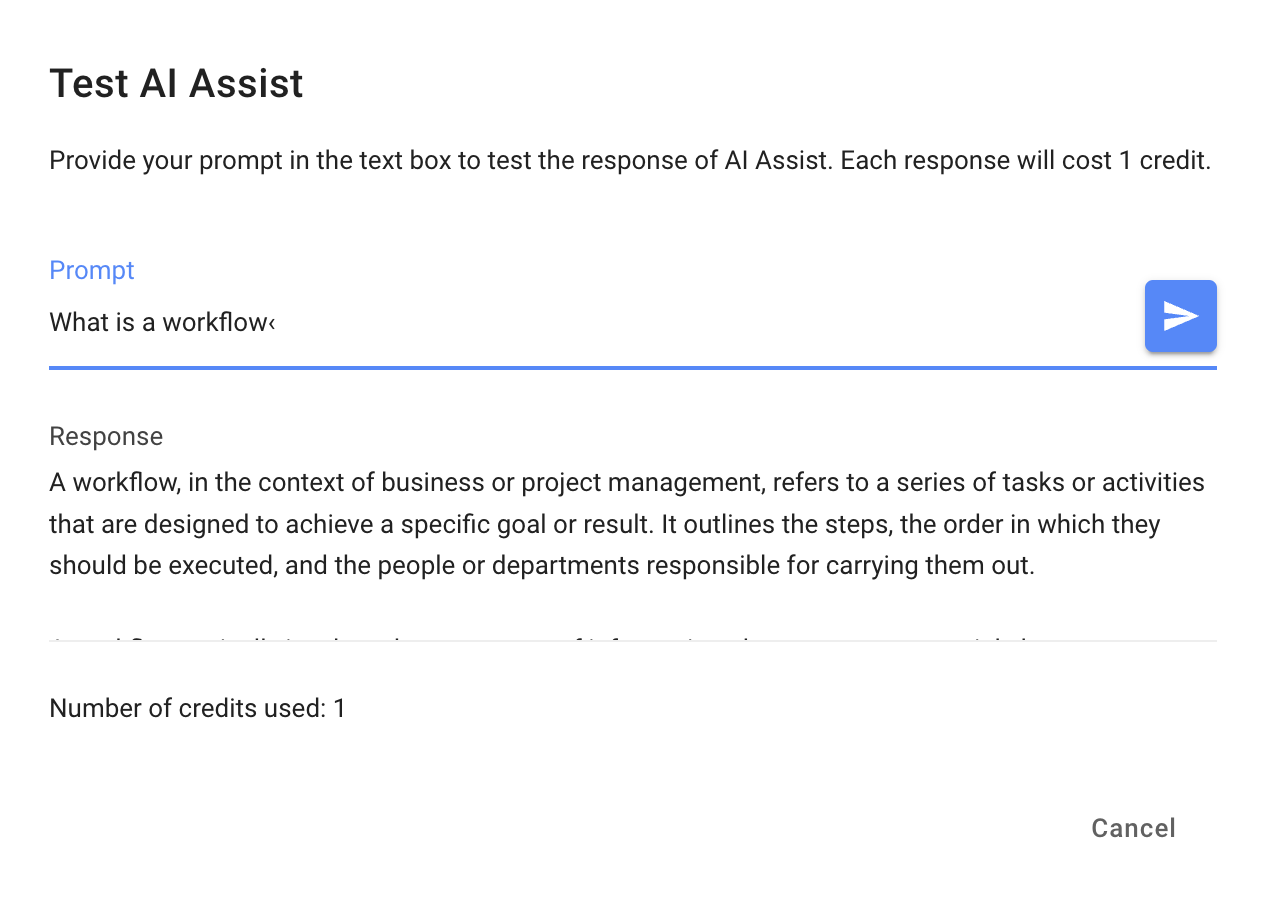 Provide a question in the Prompt field and click the Send icon.

Each response costs 1 credit.

View and verify that the response displayed in the Response area is correct.
Click Done to close the dialog.

If you are not satisfied with the response provided by AI Assist, you can provide additional knowledge sources using the Add Knowledge Source button.
Selecting Other Options
You can provide other settings such as enabling AI Assist to respond outside of added knowledge sources, add snippets and define a persona for AI Assist.
Swipe the Reply outside the added knowledge source toggle to the right to allow AI Assist to respond using the information provided to the Knowledge Base and the external source of information i.e., ChatGPT.

This toggle is enabled by default if no knowledge sources have been added yet.

If this toggle is not turned on and there is no related material in the Knowledge Source, and you have no snippets, or you turned off the snippets, no answer is generated by AI Assist for the incoming message(s).

Swipe the Snippets toggle to the right to allow AI Assist to use your snippets as a knowledge source to generate responses to your conversations.
It is recommended that you define the persona of AI Assist in the AI Assist Persona field by defining the distinct characteristics you want your AI Assist to have. For example, create a background of the persona by identifying the purpose/role it has in a conversation, define the personality (skillset, speaking style, etc.) and any other qualities that help Respond AI craft the behavior of AI Assist. However, a default persona has been provided for convenience which adheres to professional yet courteous conduct. Design the AI Assist persona carefully so that it can generate responses that best suit your business requirements.

If you want to revert back to the default persona, you can click the Reset button.
Using AI Assist
You can now start using AI Assist to generate responses to customer queries in the Messages module.
What's Next?
Respond AI - AI Agent (COMING SOON)
In our coming updates, a conversation bot called AI Agent will be added. The AI Agent will respond to customer inquiries on all your channels using the knowledge sources you have added.