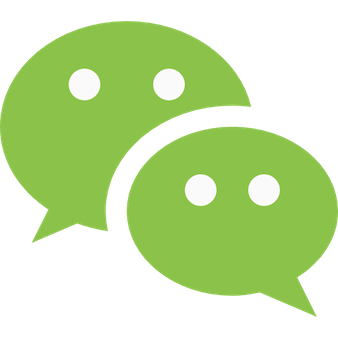 WeChat (微信 or Weixin) is a Chinese multi-purpose messaging, social media and mobile payment app developed by Tencent, a Chinese technology company. WeChat provides features like text messaging, hold-to-talk voice messaging, broadcast (one-to-many) messaging, video conferencing, video games, mobile payment, sharing of photographs and videos and location sharing.
As of the end of March 2023, WeChat had over 1.3 billion monthly active users.
If you have a WeChat Official Account, proceed with connecting your WeChat Official Account to respond.io.
Pricing
WeChat Official Accounts are free to create. However, an annual fee needs to be paid to verify the account. Learn more about the verification process here.
WeChat will cancel the unverified Official Account after 30 days.
Capturing Conversation
WeChat requires users to follow your account and message you first to start a conversation to prevent brands from spamming users.
WeChat has two features to get your customers to follow your account and start a conversation:
QR Codes
QR codes can be displayed in physical stores and websites or used in emails you send customers to encourage them to scan it on their WeChat mobile application to follow you and initiate a conversation. Learn how to generate a QR Code here.
In-app Searches
WeChat has a powerful search engine that allows users to search your official account in-app by the display name and keywords in your description. Users can easily follow you and start a conversation. Learn more about WeChat In-app search here.
Channel Capabilities
The capabilities of WeChat are listed below:
Supported File Types
The file types supported by WeChat and the maximum file size for each file type are as follows:
Image (10 MB)
Audio (2 MB)
Video (10 MB)
Message Status Availability
For WeChat, the message status availability is shown in the table below:
| | |
| --- | --- |
| Message Status | Availability |
| Sent | ✅ |
| Delivered | ❌ |
| Read | ❌ |
| Failed | ❌ |
Messaging Limits
WeChat has limited the amount of time businesses can chat with Contacts to prevent spamming. WeChat Official Accounts have a messaging window of 48 hours to reply to a Contact. Due to the channel's limitation, businesses can only send up to 20 messages within this 48 hours session.
The messaging window will close if 48 hours have passed or the business has reached the 20 messages limit since the last incoming message from Contact.
If the Contact responds to your message, both the messaging window and message limit will be reset.
If you exceed the 20 messages limit or once the 48-hour session expires, a red exclamation mark appears next to the message sent on the platform, indicating the message is not delivered.
You won't be able to send messages after the session expires unless the Contact reopens the messaging window with a new message.
FAQ and Troubleshooting
Can I connect to a personal WeChat account?
To connect to a WeChat channel, a WeChat Official Account is required. You can create a WeChat Official Account here.
How much does a WeChat Official account cost?
WeChat Official Accounts are free to create. However, an annual fee needs to be paid to verify the account; please check the Verification process here.
Can I start a conversation with a WeChat Contact?
WeChat rules say Contacts must follow your account and message you first before you can message them back. Learn how to encourage users to start a chat here.
Can I send images to my Contacts through the WeChat channel?
Yes, but there are some restrictions for non-China WeChat Official accounts to send files over API.
Why don't I see the Contact's name when receiving messages on the WeChat channel?
This is because WeChat does not provide the contact's profile name as part of the metadata. Metadata refers to data that provides information about other data. In this case, WeChat's metadata provides information such as the date and time of the messages, sender's ID, etc. Learn more about WeChat's API and metadata here.
How can I create a QR Code for my WeChat account?
Go to your WeChat Official Account Manager > Account Details
Click Download QR Code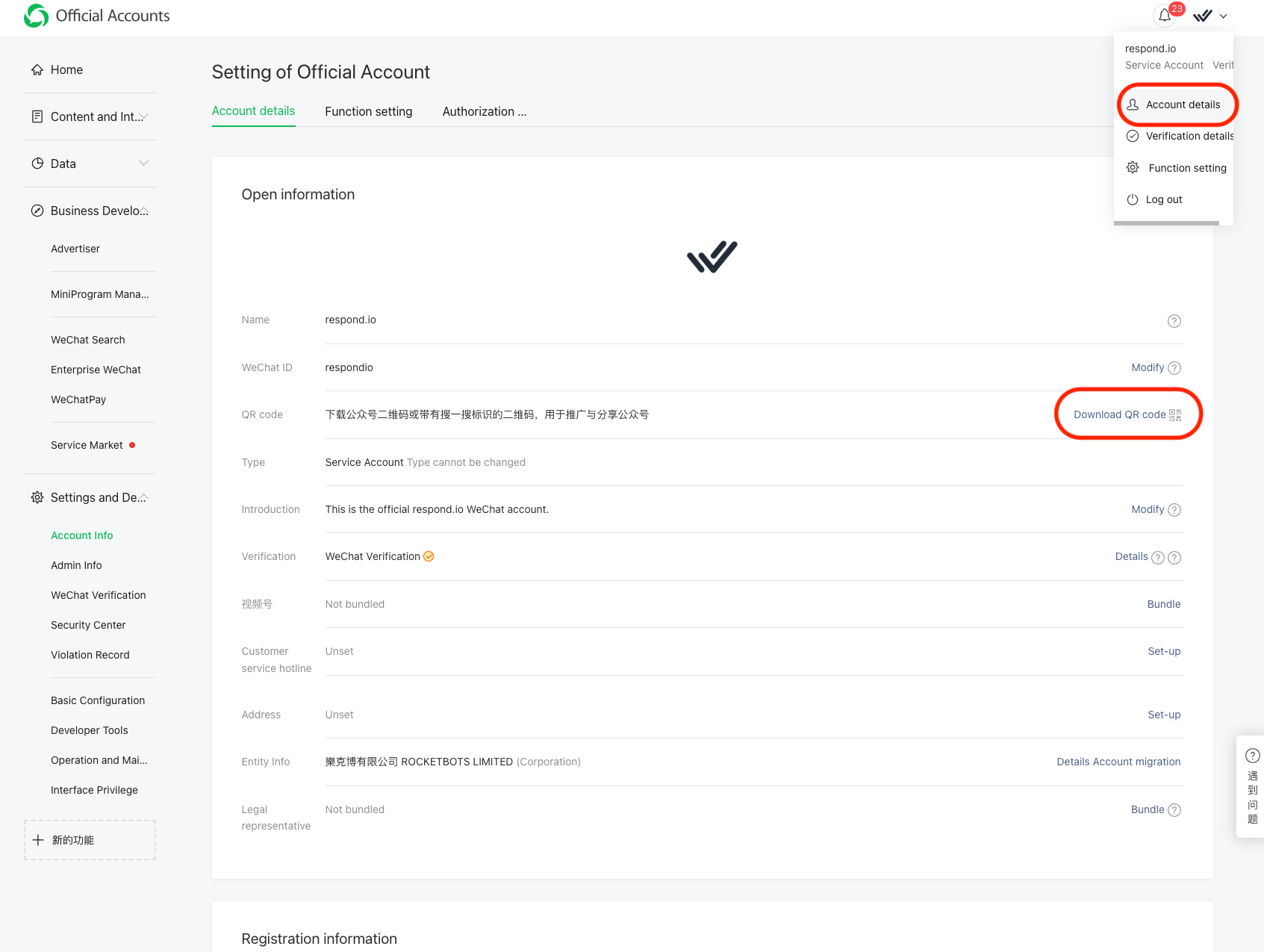 Can I send a Broadcast through WeChat using respond.io?
No, you cannot send a broadcast due to the channel's limitation. Upvote the feature request if you'll like to see this feature on our platform.
Why do I get the "out of response count limit rid" error?
This error code means you've exceeded WeChat's 20 messages limit within the 48-hour session. Learn more about WeChat messaging limits here.