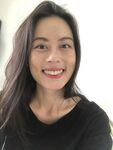 Updated by Shing-Yi Tan
This Step allows the Contact to jump to another specified Step in the Workflow.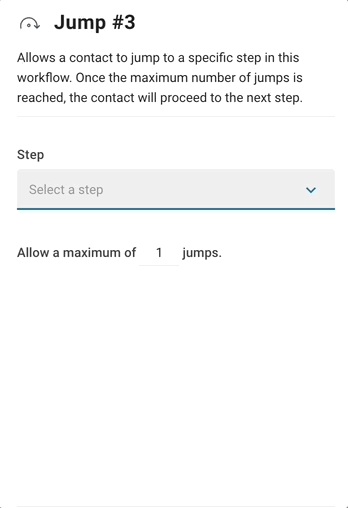 Configuration
There are two configurations within this Step:
Step: Choose the Step where the Contact's journey will proceed. The jump can go to any Step in the Workflow, in any direction.
Allow a maximum of __ jumps: Specify how many times the jump can happen. The highest value allowed is 10.
How It Works
The Contact will jump to the specified Step and continue its journey. The Contact can keep repeating the Jump Step until it reaches the maximum number of allowed jumps.
Once the maximum is reached, the Contact will skip the jump on the next attempt and move to the next specified Step after the Jump Step. If there's no next Step, the Contact will exit the Workflow.
The jump counter resets when the Contact exits the Workflow.
Best Practices
Here's a best practice for this step you can follow to optimize your workflow:
Avoid using the Jump Step more than 3 times to prevent disruptions to your Contact's journey.
Suggested Use Cases
Create Automated Chat Menus: Route Contacts to automated menu options depending on their specific response by using the Jump Step. This reduces the likelihood of them leaving the chat completely and helps them find answers quickly and independently. Route Contacts by using Jump Step
Route Contacts by Shifts: When Contacts are routed to a failure branch (outside working hours). Use the Jump to Step to assign the Contact to an agent on the team for the next upcoming shift.