Updated by JQ Lee
To connect Telegram, a Telegram Bot is required. Read our
guide
to create a Telegram Bot.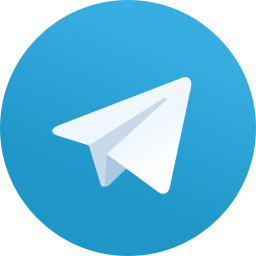 Telegram is a cloud-based instant messaging and voice-over IP service developed by Telegram Messenger LLP. This Telegram Bot integration lets you respond to messages directly from our platform.
Connecting Telegram
Step 1: Navigate to Channel Settings
From Settings module, navigate to the menu item, Channels.
Step 2: Add Channel
Click Add Channel and choose Telegram. The Connecting Telegram dialog should open up.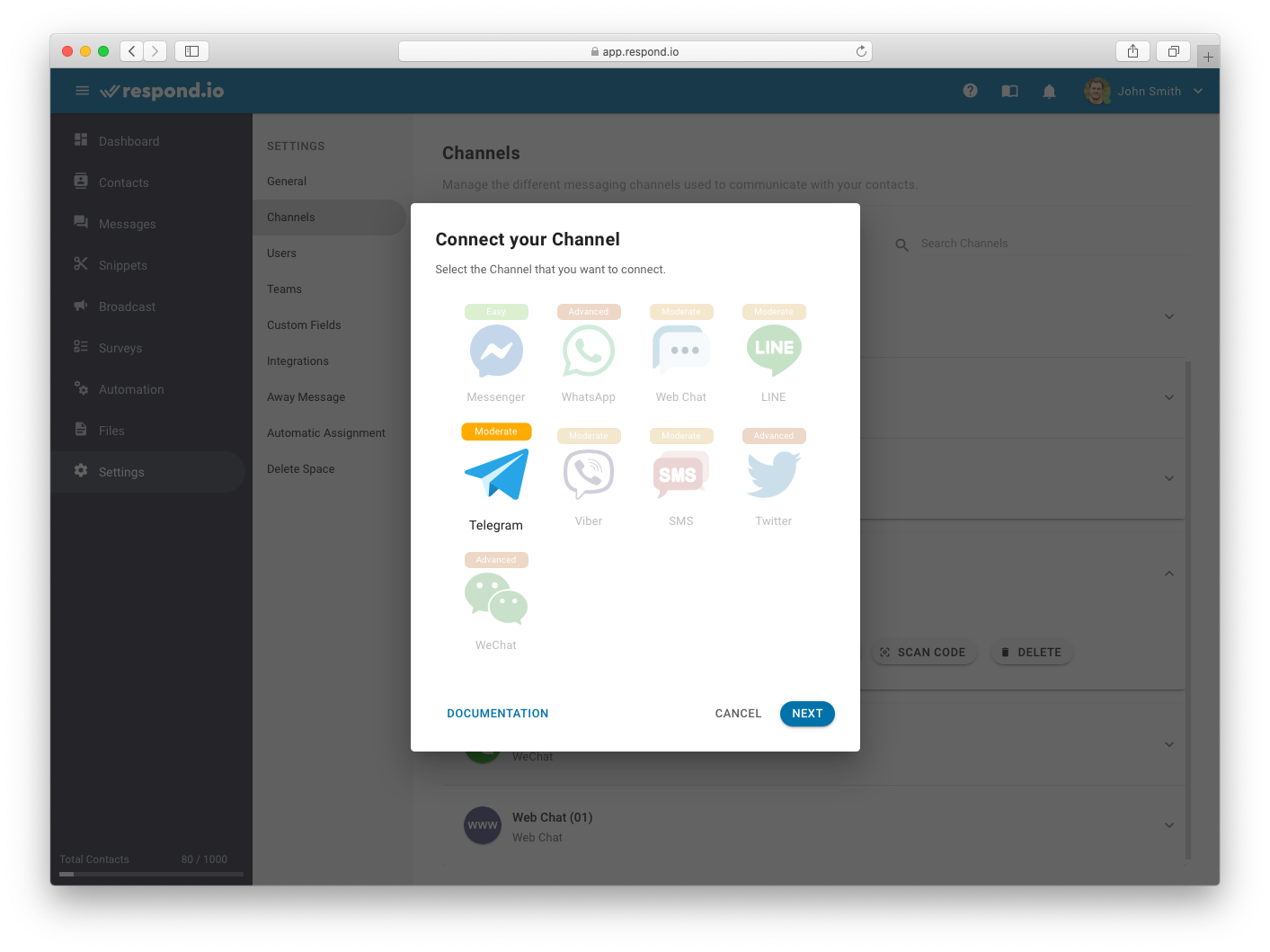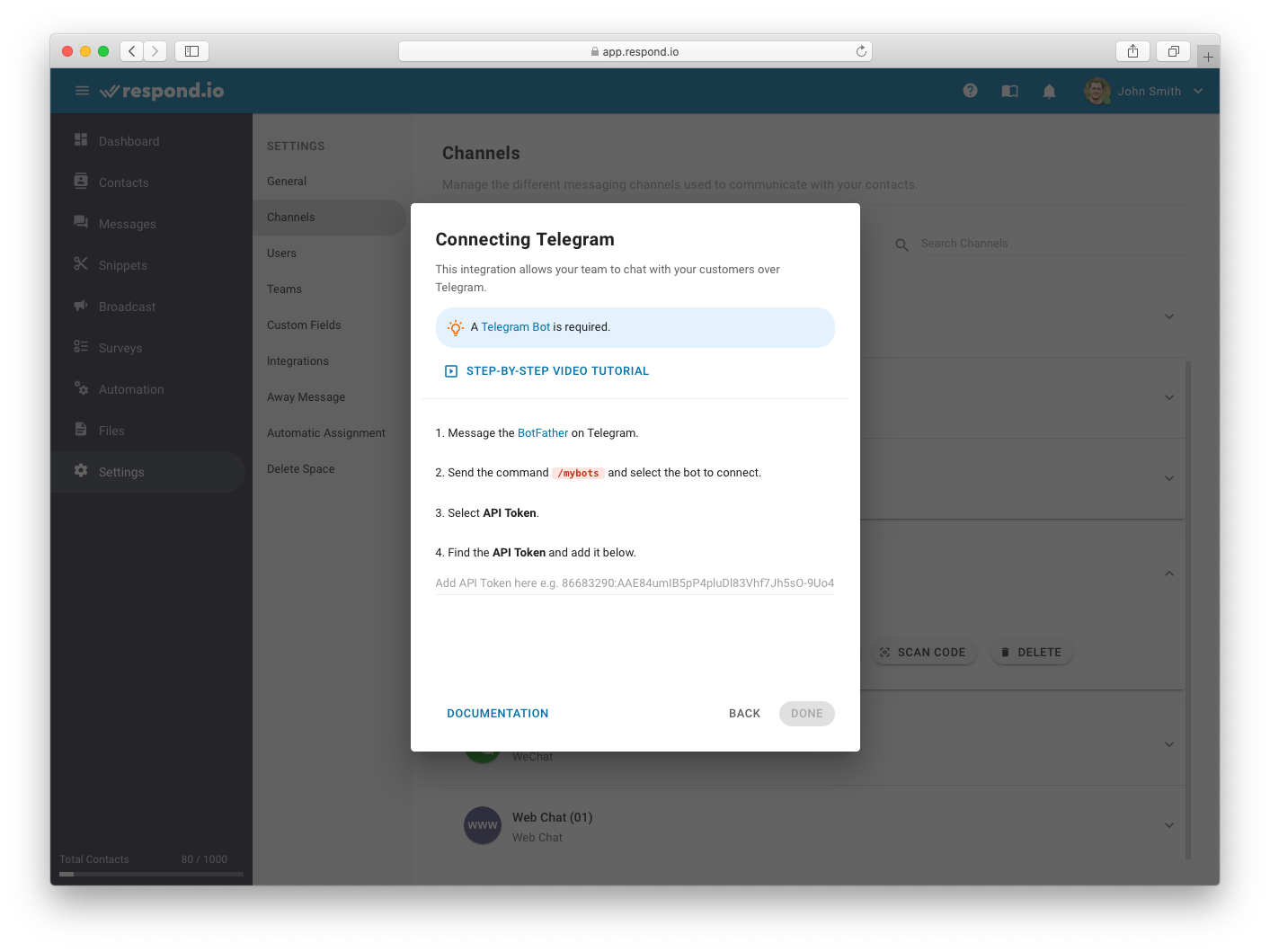 Step 3: Message BotFather
On your telegram app, message the BotFather.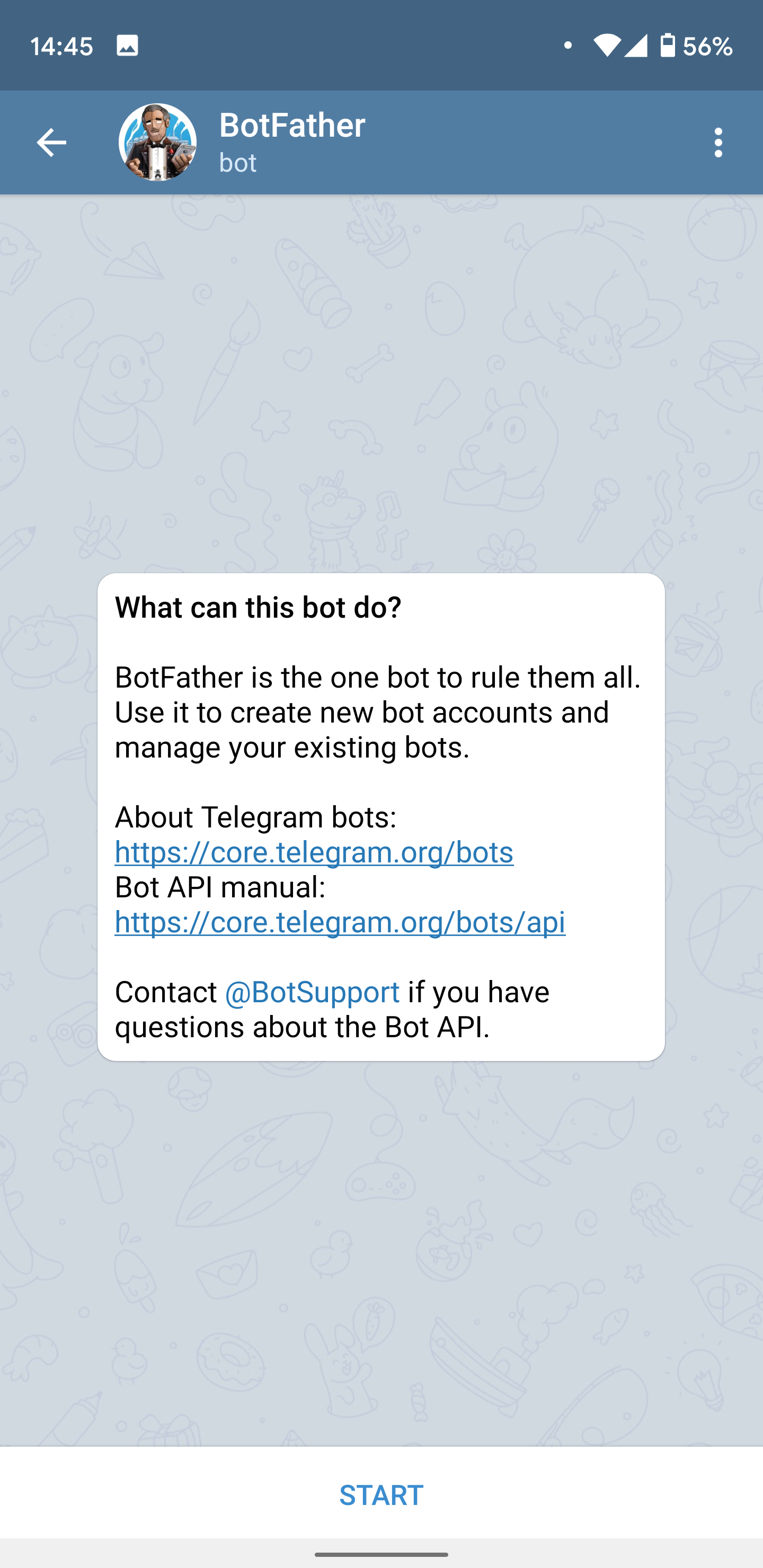 Step 4: Connecting to a bot
Send the command /mybots and select the bot to connect.
Step 5: Get API Token
Select API Token from the menu options and add the API token to the corresponding field on the respond.io platform.
Step 6: Complete the setup at respond.io
Click Done to complete the setup.
Once you've completed the setup, any messages sent to your Telegram account will now be received in your Workspace.
Channel Configuration
Telegram channel can be configured with a unique channel name.
Step 1: Navigate to Channel Settings
From Settings module, navigate to the menu item, Channels.
Step 2: Locate the Telegram channel
Once you've located the Telegram channel, click Configure.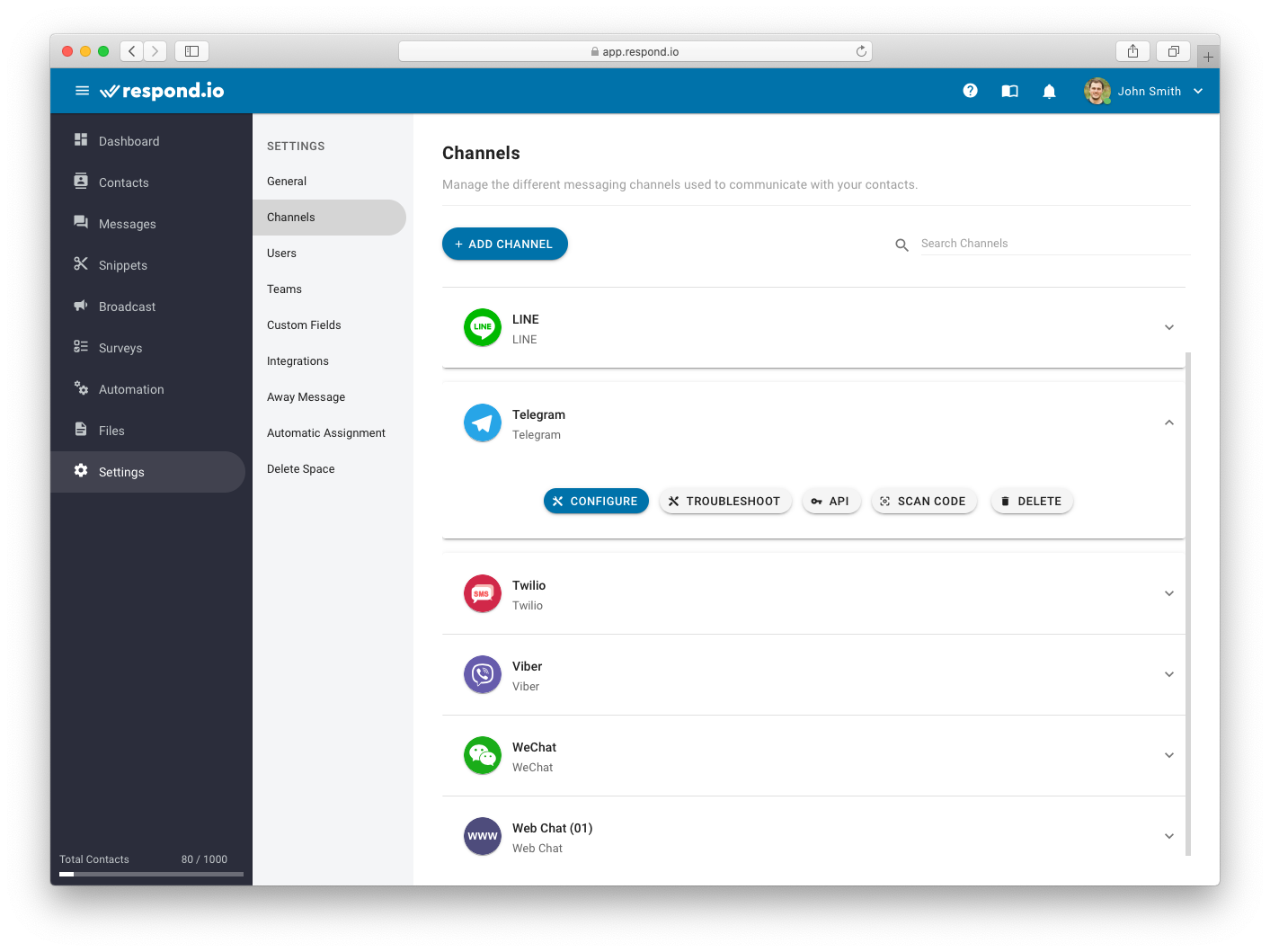 Step 3: Make the necessary configuration
You can configure the following:
Channel Name - Name used internally to identify the account.
Important: Be careful when entering your details as errors might cause failure to receive messages from your Telegram account.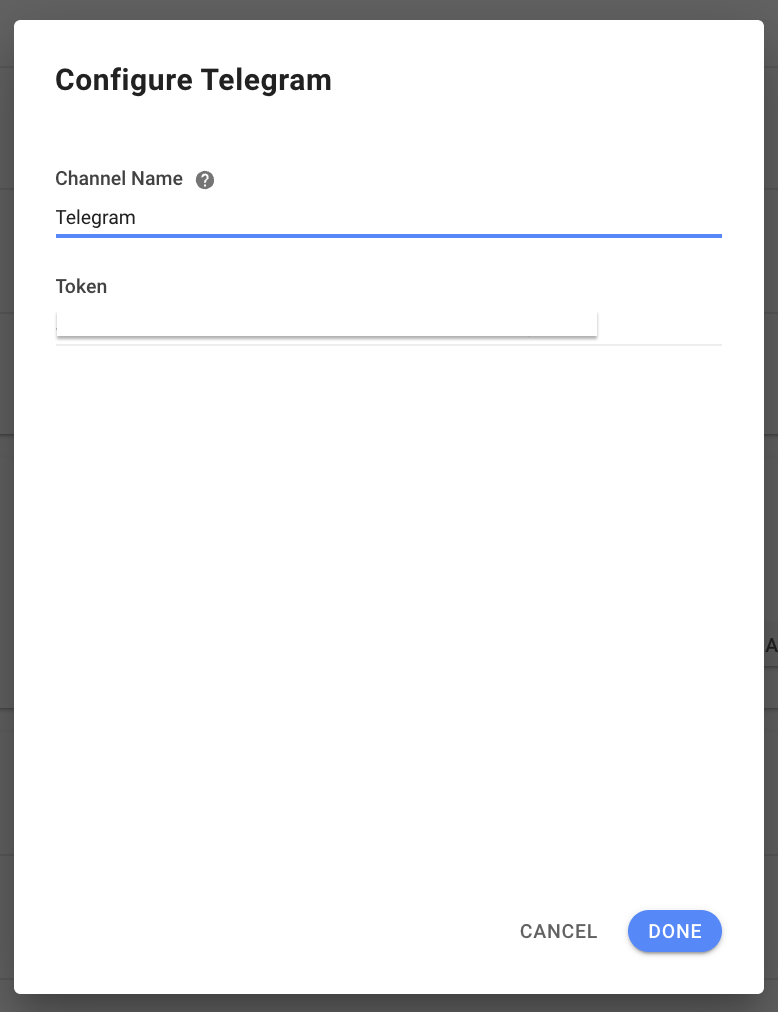 Step 4: Update the configuration
Click Done to update the channel configuration.
FAQ and Troubleshooting
Can I connect to a personal Telegram account?
To connect a Telegram channel, a Telegram Bot is required. You can create a Telegram Bot here.
Why do I get this "Forbidden: bot was blocked by the user" error message?
If you received this error message next to a message on the platform, this means the Contact has already blocked your Telegram bot.
Blocking is a way for a Contact to stop receiving messages from a business. Spamming is one of the main reasons why a Contact blocks a business whereby the Contact feels the business is constantly sending irrelevant content or other unsolicited messages.
Once the Contact has blocked your Telegram bot, your business can't send any messages, which include broadcast messages, 1-to-1 messages or any other messages initiated by the business to the Contact anymore unless the Contact reaches out to the business again.