WhatsApp Message Templates
Updated by JQ Lee
What are WhatsApp Message Templates?
As of now, our WhatsApp API Partners (excluding Chat API) have a timeout period that does not allow sending a message after 24 hours messaging window. This timeout period, also known as the Customer Care Window, starts from the last incoming message sent by the Contact. However, there is a way to send messages after this window using a feature provided by WhatsApp known as Message Template.
WhatsApp Message Templates are plain text and interactive message formats businesses can use to initiate contact with customers or when sending a message outside the messaging window. They require pre-approval from WhatsApp to ensure they abide by WhatsApp's Business and Commerce Policies.
Setting up WhatsApp Message Template
In order to send these message templates to Contacts, the message templates need to be submitted for review and approval by WhatsApp. This can be done via the WhatsApp API Partners portal or the respond.io platform.
Tip:
Make sure that the message template falls under one of the
three supported categories
: Marketing, One-time passwords or Transactional.
Message Templates can contain the following content:
Optional Header: This is the only section that allows media including images, videos and documents. Use this to attach content like posters, product photos, promotional videos or receipts.
Body: This is the main section. Only text is supported. It can be formatted with markdown to include bold, italic, strikethrough and emojis.
Footer: This section should contain less relevant information like a sign-off slogan, company address or T&C of an offer. Only text is supported.
Button: This makes your message interactive, prompting contacts to respond with one click. These include Quick Replies, used to respond to a multiple choice question, and Call-to-Action, to direct customers to your website or to call you.
Buttons and media headers are not supported for Twilio and MessageBird WhatsApp Template Messages.
Please refer to the respective WhatsApp API to set up the WhatsApp Message Template:
Sending a WhatsApp Message Template
If you need to reach your WhatsApp Contacts after 24 hours, you can send them a WhatsApp Message Template. Before sending them a WhatsApp Message Template, you will need the following:
- Message Templates approved by WhatsApp at the respective platform.
- Approved Message Templates defined in the respond.io platform.
When a WhatsApp Contact's messaging window has expired, the messaging bar will be replaced with a SEND MESSAGE TEMPLATE button.
You can also send WhatsApp Message Templates while the messaging window is still open. Choose WhatsApp as the channel and click the Template Message icon in the toolbar of the message composer to select a template.
Step 1: Click Send Message Template or the Template Message icon
To send a Message Template after messaging window has expired, click the SEND MESSAGE TEMPLATE button at the bottom of the Messages Module.
To send a Message Template during the messaging window, click the Template Message icon in the toolbar of the message composer.

Step 2: Select the desired template
Select the template you want to send to your contact. You can search and filter by category and language.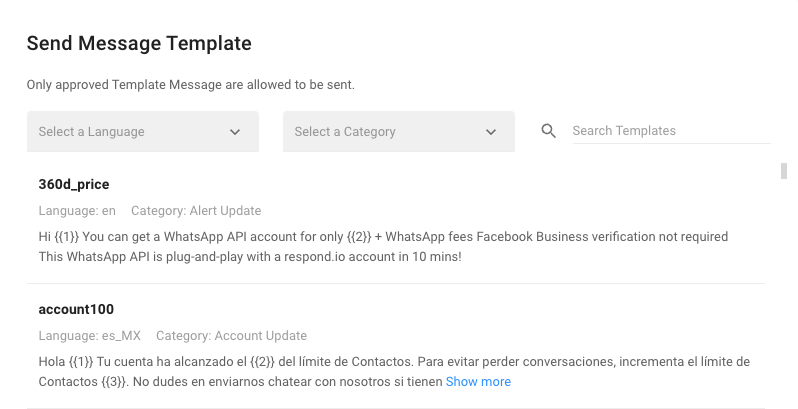 Step 3: Fill in the required fields
Specify the parameters for the template and you may use Dynamic Variables to fill in the required fields.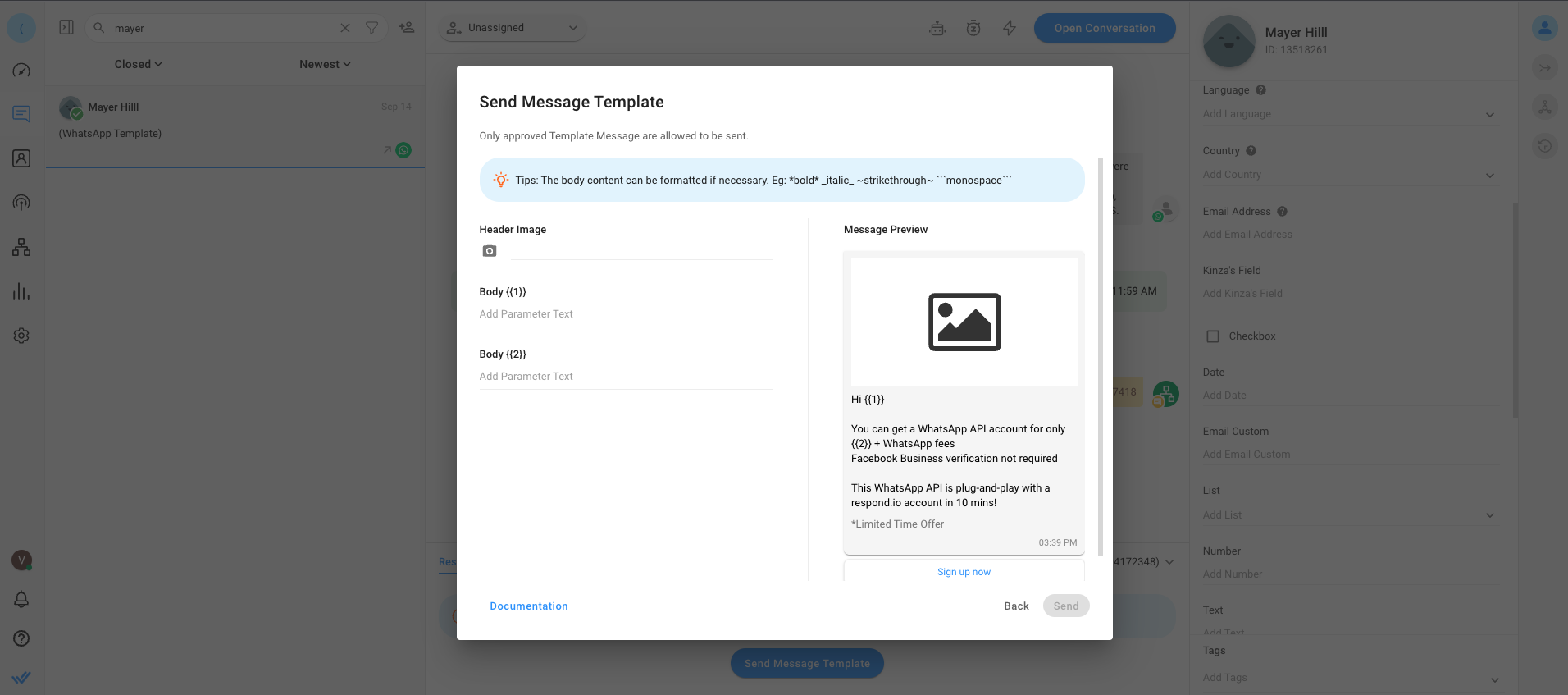 Step 4: Send the message
Review the information and press SEND when you are ready.
When a user is typing the values for the parameters, the parameters in Message Preview will be replaced with the values for users to review before sending it to the Contact.
FAQ and Troubleshooting
Why are my message templates not being approved?
There could be several reasons why your message templates are not being approved:
Technical issues: Ensure your message templates are formatted correctly and do not contain any technical errors.
Inappropriate language or tone: Avoid using offensive, harassing or spammy language.
Incorrect use of template category: Ensure the right template category is selected to match the type of message being sent. For example, Shipping Update can only be used for specific, approved purposes such as shipping updates and confirmations.
Violation of Meta Commerce Policy: Make sure your message templates comply with the Meta Commerce Policy, which includes guidelines on content such as spam and unapproved products or services.
IS THIS ARTICLE HELPFUL?
We love to hear from you!