Getting Started with the Reseller Program
Getting Started with the Reseller Program
Updated by JQ Lee
Reseller Program
By becoming an official respond.io Reseller Partner, you will be able to set up your cloud white-labeled business using the respond.io Platform, with your own branding, support, and billing. respond.io will become your supplier behind the scenes, but from your customers' perspective, you are their company. Set your own prices and pocket the difference.
You will be able to rebrand the website and use your own domain. Sell our product and your service together with a brand name your customer can trust.
With access to unlimited Spaces on the platform, you will be able to assign each of your customers to their own Space. You can also assign contact limits to each individual Space and customer.
You would want to become a Reseller Partner if:
You want to promote your own brand.
You want to provide our product on your own domain.
You want to set your own pricing.
You can promote your own brand by:
Customizing the platform to your own brand and domain.
Promoting the product on your own website.
Offering the product and service to your existing customers.
If you are interested in becoming an official respond.io Reseller Partner, check out our
Reseller Program page
to apply as a Reseller Partner.
Becoming a Reseller
To become an official Reseller Partner, visit the Reseller Program page on respond.io. Here, you can take look at the Reseller Program features in more detail.
Once you are ready, press the orange "Become a Reseller" button. This will take you to a short application form for you to apply for the respond.io Reseller Program.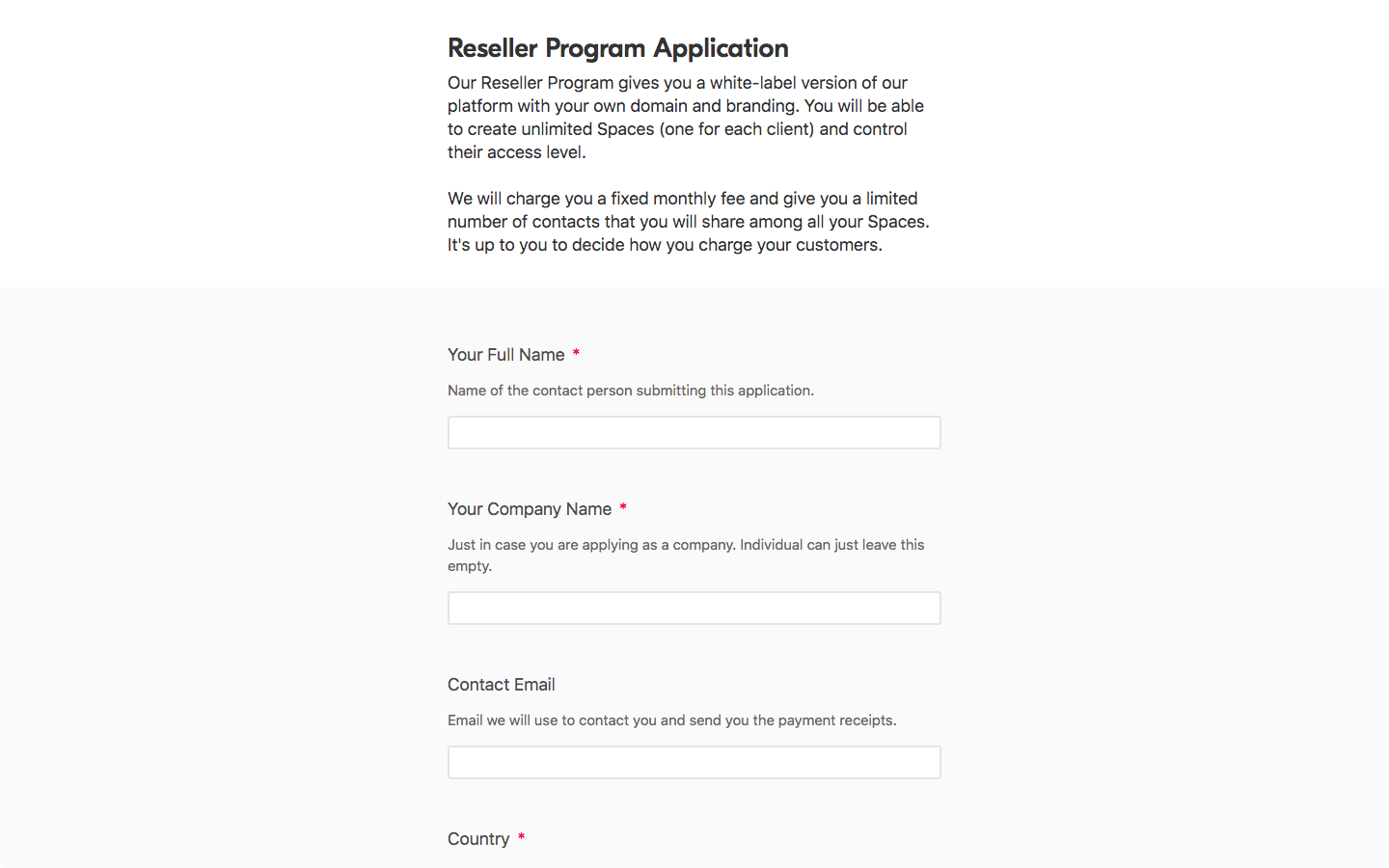 Once you have filled in your information into the form, press the blue "Submit" button. After submitting the form, you will have to give the respond.io team up to 72 hours to review your application.
The respond.io team will get in contact with you to help you create your account.
Setting Up Your Account
Once you have obtained your Account, you will have access to the White-label module on the respond.io Platform.
Step 1: Navigate to Organization Settings
You can access your organization settings from the Settings module.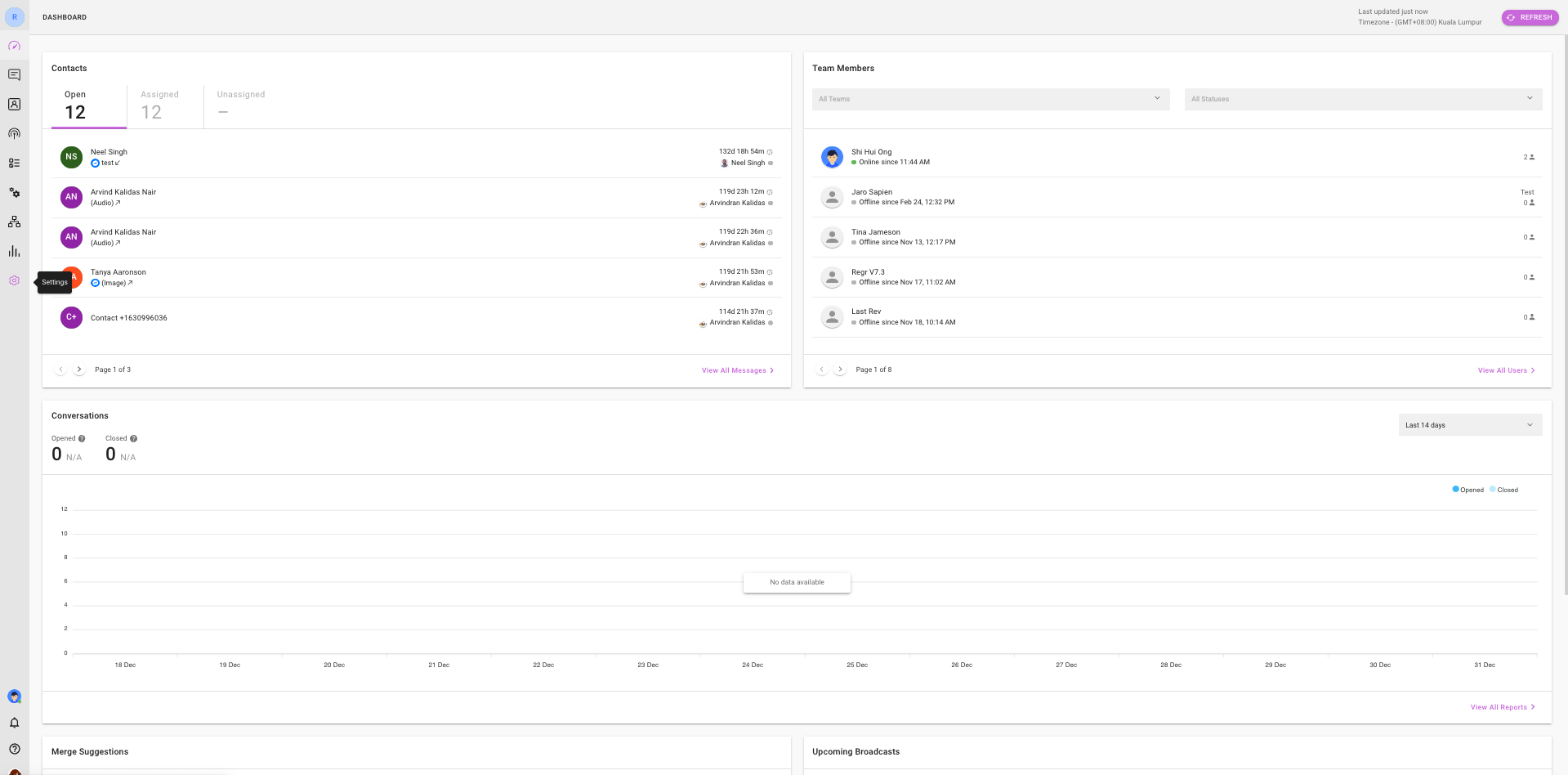 Step 2: Access the White-label module
From the left navigation menu, press on the White-label to access the white-label module.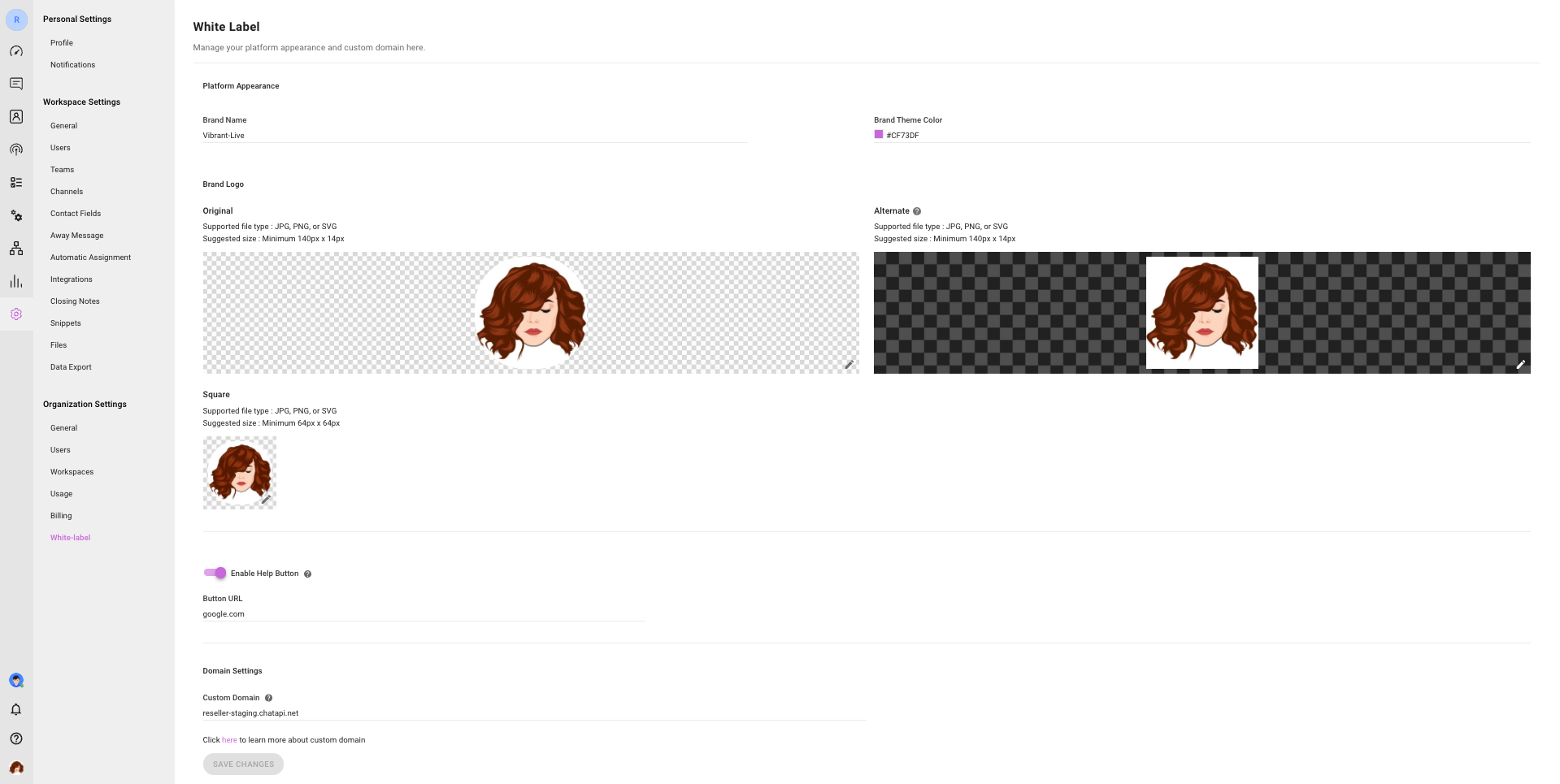 Step 3: Rebrand the platform
The White-label module allows you to rebrand and customize the appearance of the platform to match your own brand. You can refer to the following to learn more about how to customize the platform's appearance.
Step 4: Setup a custom domain
As part of the customization, you can also set up a custom domain for your users to access. Rather than accessing the platform via respond.io, you can use your own domain to show the platform. Refer to the following on how to set up a custom domain.
Step 5: Invite teammates
Once you have done the above, you can invite teammates to co-manage this organization with you. We have different organization access levels to suit your organization's needs.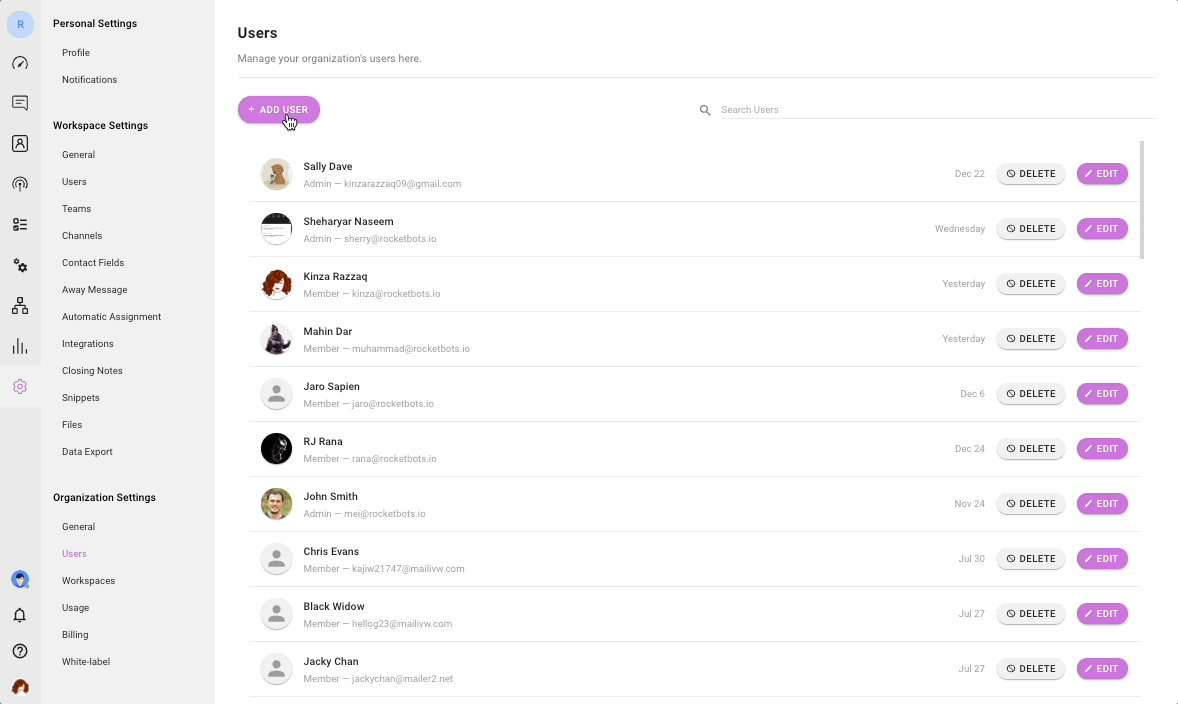 You can learn more about the different organization access levels provided in respond.io.
Step 6: Create Workspaces and Invite Users
You can create multiple workspaces and invite users to the workspaces.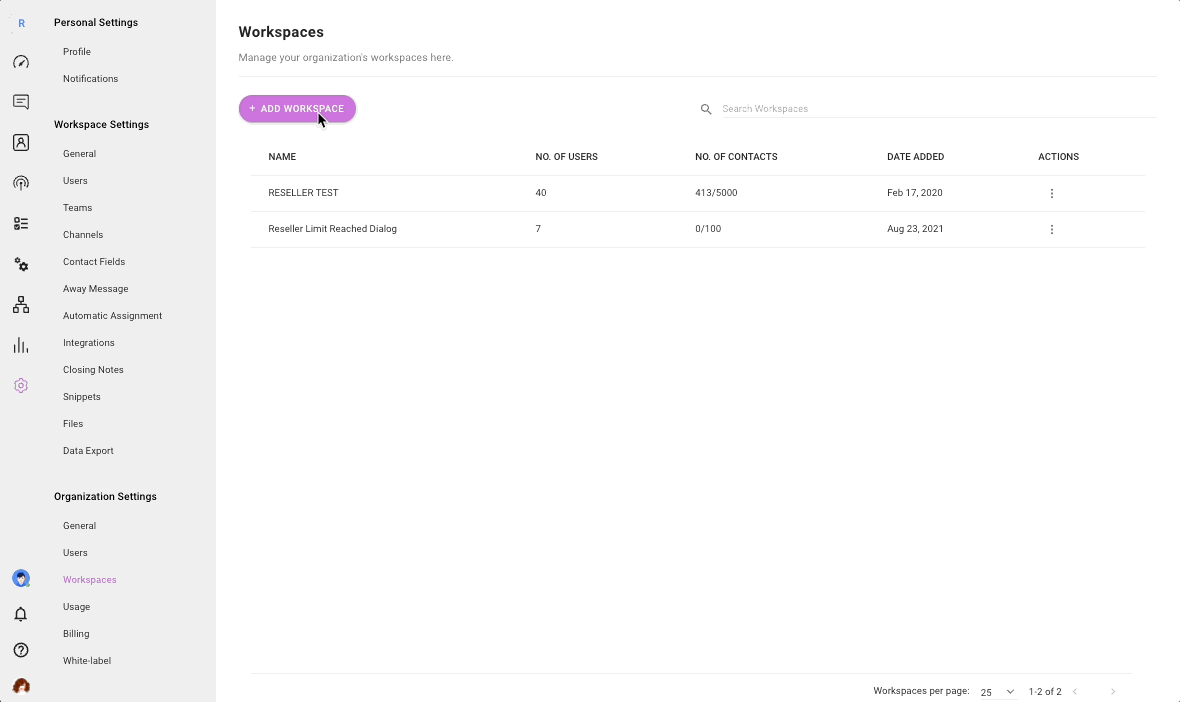 Learn more on how to manage workspaces and users:
Best Practices
1. Provide Manager or Agent access to your customers and their users
If you have a client or a customer, invite the person in charge of the space as a Manager or Agent instead of an Owner. This way, you can restrict them from deleting any important configuration within the platform.
2. Ensure that you only provide Organization Member access to your customer and their users
Organization members do not have access to the organization settings and therefore they cannot make changes to this module at all.
3. Engage a user admin to manage the user accounts of the organizations
We provide an organization role, User Admin to manage the users and their access levels within the organizations. This role will enable a user to add, delete or edit a user, their access to spaces and access levels within the organization.
4. Wait until all is sorted out before inviting your customer and their users to the platform
To prevent your customers and their users from receiving marketing emails from respond.io, we will need to manually remove your organization from the marketing subscription list. It will require 7 working days to process the unsubscription. If you would like to escalate this process, please contact our support team on this.